Tourism Director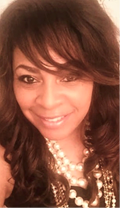 Sakina Yvonne Jackson
Sakina Yvonne Jackson was born in the historical freeman town area of Dallas, Texas however, her mother was a native of Marlin, Texas along with many cousins, uncles, and a host of family friends who currently reside in Marlin.  A few of Sakina's siblings attended and graduated from Marlin High School, McClennan College and Paul Quinn College.
Although Sakina was not born in Marlin, her childhood summers and holidays were spent enjoying many activities such as softball, arcade, skating and just some fresh outdoor fun!  Sakina attended Wilmer Hutchins ISD, and Franklin D Roosevelt Dallas ISD.  She later went on to obtain a degree in Business and Marketing from Dallas Junior College, Court Clerk Certification through Collaborations between Texas State University and Texas Municipal Court Education Center.
Skilled in a variety of professions stemming from fifteen years in corporate legal services Downtown Dallas, Media and Marketing while working for both a radio broadcasting station and local newspapers.  Sakina was highly sought after to head up several marketing campaigns for businesses ranging from law offices, auto dealerships, local and state political campaigns, Dallas Arts and Culture (Census Project), Paul Quinn College "We Over Me Farm" Tourism, City Square via AmeriCorp Hospitality Program, State Fair of Texas, World Food Competitions to name a few.
She did not stop there, Sakina took on what was supposed to be a temporary part time job at a local municipality, however, her skill level spread quickly to the Director of Court.  Sakina found herself interviewing for a permanent part-time position as a court clerk which soon led to her being selected and promoted to juvenile case manager.  At the time there was no program for juveniles.  Because of Sakina's experience and self-starting drive, she set out to build the program ground up by researching and visiting neighboring municipalities to learn what they were doing to go back and customize a marketable, yet productive program for her city.
Sakina joined the newly formed North Juvenile Case Manager Association where she served as the secretary.  Working alongside her Court Administrator and Judge, other cities began to reach out to build similar programs which involved Mothers Against Drunk Driving, Shattered Dreams Program and Traffic Safety Programs.  Two years in, Sakina found herself being selected by her then retiring court administrator to become her successor.  After serving eight years with the Court, due to family needs Sakina decided to semi-retire to spend time with her increasing number of grandchildren and assist her youngest daughter to prepare for college. However, six months into her retired lifestyle Sakina carved out a few hours a day to launch her own food seasoning brand!
With her combined career experiences, taste for good food, and love for community; Big Toe Seasonings was launched online in 2018.  It was not long after her launch she found herself and her brand being featured in multiple magazines, radio shows, podcast interviews and a contract to both sell and market her brand on military bases.  Sakina was in the right place at the right time when she found herself meeting talk show host, comedian, and actress Sherri Shepherd of whom featured her brand on her then one million followers Instagram page cooking with Big Toe Seasonings!
Other celebrities followed as well causing Sakina's website to crash. Today, you can find her brand in specialty stores in the Dallas, Fort Worth area, neighboring cities, museum giftshops, and in Atlanta Georgia.  While her brand is primary ecommerce her goal is to one day grace the shelves of major grocery stores.  Sakina resides between two homes, both DeSoto and Marlin.  While riding through Marlin, Sakina stated her love for Marlin and its rich historical heritage is what she would love to share with the world.  Sakina is honored to join her fellow Marlinites, the Bull Dog Nation, and new city family as our Director of Tourism and Marketing.