Hon. Mayor Carolyn Lofton, LMSW-IPR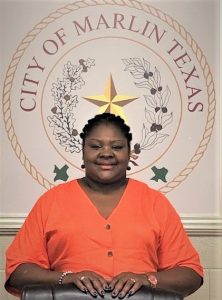 Greetings citizens of Marlin, Texas. I want to start by saying thank you for the opportunity to serve as your Mayor, and believing that I am the right person to get the job done on behalf of the citizens of Marlin. I will strive to be goal achievement driven. It is my true interest in being a contributor to this city, not a taker. My career background and life experiences as a Marlinite has truly fueled my desire to make it much better than it is or has been. I was elected as the first African American Mayor of Marlin in May of 2019 because many wanted a unifying change and diversity in the direction of city leadership and local governance.
I am an LSW-IPR clinician, a person of strong faith in God, a mother and public servant leader. Also, I am a professor of Advanced Generalist of Social Work Studies at Baylor University, a licensed medical social worker for Texas Home Health Hospice, and Owner/CEO of Social Worker Consultants, LLC. I hold a Masters of Social Work with a specialization in Gerontology, a B.A., in Criminology with a minor in Criminal Justice. I enjoy cooking, reading, writing, counseling, planning events, meeting new people, and intellectual conversations.
My goals and desires are to help bridge the gap between indifferences, and provide the community of Marlin with the necessary public services to have an opportunity to improve its quality of living. I hope to bring about public policies that would help the much-needed environmental cleanup and the redevelopment of the underutilized assets in our community. I will continue to fight for the transformation of Marlin into a more inclusive and improved community to work, live, and play.
Furthermore, I believe in the team concept of approaching the many issues of public or organizational concerns. I have worked hard to establish many relationships with other federal, state, and local government agencies, and private organizations. It's my goal to employ hardworking, intelligent public service workers to protect citizens earned rights, public health and safety, while providing the necessary services to improve the quality of life for our citizens without breaking the coffers of the tax payers dollars.
"It's my honor to serve as your Mayor and a holder of your trust."