Precinct 3- Terence W. McDavid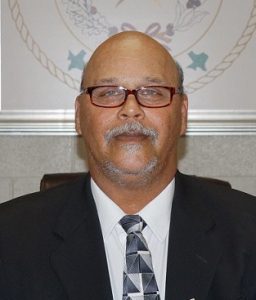 Hon. Terence Wayne McDavid was elected into office in May of 2017.
Terence was born and raised in Marlin and graduated from Marlin High School in 1978. He is a member of the Marlin Missionary Baptist Church and a member of Mason Hopeful Lodge #78. He is a member of the NAACP as well as the Booker T. Washington Alumni. McDavid has served on the City's Redistricting Committee, multiple Scholarship Fundraiser Committees and works voters poll for area elections.
Terence volunteers many hours of public service to the community and schools. He is active in various sporting events, scholarship fundraising events, care for the elderly, food drives and toy drives. He is devoted to economic development, educational advancement, citizen's and community needs, trust and fairness. Mr. McDavid's is a military veteran of the United States Air Force, while on active duty, he attended numerous military schools. He has training in Technical Supply, Primary Leadership Development, Supervisory Safety Operations, NCO Primary Leadership, R-14 Mobile Refueling and Fuels Career Development. Civilian education includes Central Texas College: courses from the University of Maryland -Subic Bay, Philippines as well as 32 credit hours toward an Associate of Applied Science Degree in Fuels Distribution.
His hobbies include spending time with family and friends, helping the elderly and needy and fishing, cooking and swimming.
Terence is married to wife, Debra A. Levels McDavid who has a Bachelor's Degree in Mechanical Engineering from Prairie View A&M University and a Master's Degree in Industrial Engineering from University of Texas Arlington. He has three daughters, Ortega McDavid 2003 Marlin graduate and holds both a Bachelor's and Master's Degree from Prairie View A&M, Oresha McDavid 2006 Marlin graduate holds a Bachelor's Degree from Texas A&M Commerce and Orterria McDavid 2010 Marlin graduate holds a Bachelor's Degree from Prairie View A&M University.
He is COMMITTED, DEVOTED AND DEDICATED to Peace, Principles, Progress and Prosperity.