Precinct 6 – Douglas L. Porter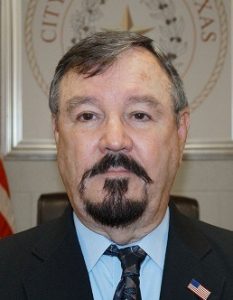 Hon. Douglas L. Porter Jr. was elected to office in May 2014. He was born in Waco and raised in Bellmead, Texas. Douglas attended the LaVega Independent School System and furthered his education at Central Texas College and Troy State University.
Councilman Porter spent thirty years in the United States Army on active duty, where he attended numerous military schools.
After retiring from the Army, he served as the Director, III Corps and Fort Hood Troop School, supervising all facets of military training for US soldiers and foreign nationals.
He has been active in Marlin community service since moving here twenty years ago. Councilman Porter has served on the Marlin Economic Development Committee established by Mayor Karen Meyer, Building Standards Board, Planning and Zoning Board and as President of the Old Homes Club.
Douglas is active at Trinity Memorial Baptist Church where he serves as Treasurer, Sunday School Director and brings the Sunday Children's Sermon. He and his wife Mary Ellen are Chaplains with the Texas Baptist Men Disaster Relief Mission.
His hobbies include studying history, painting and woodworking.