Precinct 2 – Mayor Pro-Tem Rhonda Milton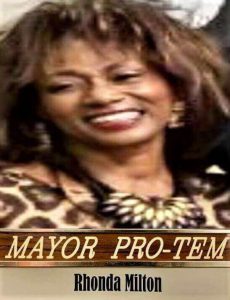 Hon. Rhonda Milton was elected in 2017. She holds a M.Ed. and is a public educator (History) for Marlin ISD, she speaks several different foreign languages.
Ms. Milton goal is to bring common sense and an educational approach to governance and leadership to the city council through a calming approach to dialogue and communications as a team. Ms. Milton believe in solid research on the issues and concerns of the citizens of Marlin. She supports new growth opportunities that will provide the whole community of Marlin with the necessary opportunities, services and benefits that makes other communities grow.
I will continue to support the great transformation of Marlin, Texas.