Precinct 5 – Neddie Moore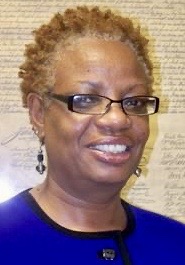 Hon. Neddie Moore is a graduate of Marlin High School Class of 1976. She holds a Masters of Christian Ministry and Leadership – Baylor University, B.S. in Human Development – Southwestern Christian University, and three A.A. in Mental heath and Substance Abuse Counseling – McLennan Community College. Neddie was elected in 2015, she enjoys meeting new people, bible reading, spreading Gods word and ministering, she is employed as a Chaplain at the Hobby Unit of the Texas Department of Criminal Justice. Also, Ms. Moore serves as the CEO and founder of "People Helping Hurting People Heal." Ms. Moore takes her roles as a family and community advocate, emotional management counselor, Christian servant leader very seriously.
Ms. Moore goal is to be a bridge builder amongst the community and help guide new growth and opportunities that provide the community of Marlin with the necessary public services that makes us a better community. I will support public practices and policies that will get Marlin ready for future successes.
I will continue to fight for the great transformation of Marlin, Texas.